Electrical Items. (Ignition items are listed separately)
Dynamos, Starters, Voltage Regulators new and reconditioned usually available.
Various lamp units both 'New Old Stock' and excellent condition used are usually available.
Rev-counter cable - Barker only (yes I know it's not electrical but where else do I list them?)
Rev-counter gearboxes available to order - Barker only.
Other cables available to order from you pattern.
Dynamo Brushes.
Horn points.
Interior Light Cover - Daimler Barker Special Sports.
Wiring Junction Box 2 way, 4 way and 6 way - most Daimlers 1946 - 59
Side Lamp Glass & Backing assembly Small hole with bulb holder NOS - Daimler Consort & Barker
Starter Bendix Spring NOS - Daimler E18
Windscreen wiper motor - Daimler Consort & Barker (mod to fit either)
Windscreen wiper motor - Lanchester LD10 - Type SW4 - Model no. 75066 to 75190
Wiring looms can be supplied to pattern, these are not stock items.
We are also able to offer a 're-silvering' service for 770 type headlight reflectors on an exchange basis.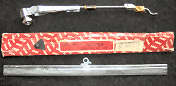 Seen what you need in the list above? Or maybe not.
Don't wait for others to get back to you, it's probably in our stock.
We pride ourselves in fast personal service.
Click on the contact button and give us a call.