Body parts.
Pedal Rubbers.
Fuel filler neck grommets.
Hand Brake cable grommets (through scuttle).
Pedal shaft rubber grommets.
Steering Column rubber grommets.
Speedometer cable - Lanchester LA11.
Speedometer cable - Daimler Consort & Barker Special Sports.
Speedometer cables for others supplied to pattern.
Windscreen Wiper Blades 8inch flat screen complete with securing pegs.
Seen what you need in the list above? Or maybe not.
Don't wait for others to get back to you, it's probably in our stock.
We pride ourselves in fast personal service.
Click on the contact button and give us a call.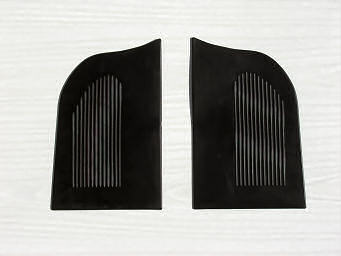 Pairs of rear wing stone guards for Daimler Consort, to original pattern
available in limited quantity.